Other Scenery: Craft Sticks, Trees
Below is a remake of an old castle I did a few years ago. It was first all cardboard. But I got a box of 1000 craft sticks at michaels for $2 so I figured I would try to do somthing with it.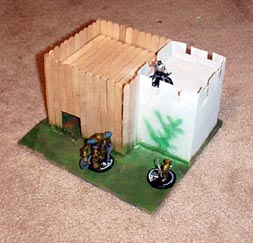 Using the same method of making hills as mentioned on the hill page I made a King of the hill scenario piece. It's Good to be the King. As well as a trial of how to make trees. Worked out Ok using a scrap piece of plastic as a base, and a stick from a tree out back as the trunk. I used lichen I got at Michaels for the tops, and fake moss from the train section for the shrubs. I also glued some flock on for grass.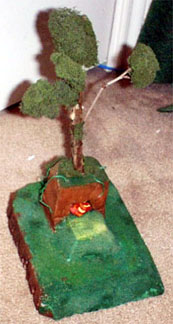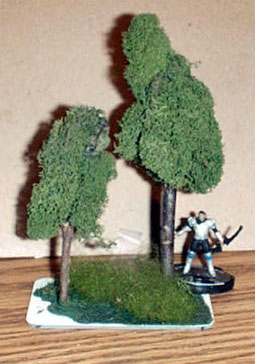 Before and After pic. totally computer rendered of what I want it to look like when I am done. but this project will probably never get complete, thats just how I am. The white box is project board (foam core).